BJ and Richeille Formento (known as Formento+Formento) are an explosive husband and wife creative duo working together to execute visually and thematically stunning photographs since they met on assignment in 2005. BJ was born in the Phillipines and raised on fine art and street photography. He has worked legends such as Richard Avedon, Mary Ellen Markand Annie Leibovitz. On the other side is Richielle, a London-born fashion designer and art director. They met while both were at crossroads in their careers, clicked, and their collaboration turned them into nomads of the best kind; travelling the world and creating insane compositions unlike anything we've seen before. Two creative minds and lenses moulding together to create a single vision that would most certainly reinforce the gestalt theory that the whole is greater than the sum of the parts. Let's break down in their own words, according to their Tumblr:
They have essentially created a third lens–a third eye–through their collaboration to create truly mind blowing shots that you can't tear your eyes away from. These are the kind of photographs that you want to study, to drink in everything they hold.  They combine fine art, street photography, storytelling, surrealism and a strong dose of fashion aesthetic with their powerful female muses. We caught up with the duo to find out more about the fascinating creatives behind these killer photographs.
"During the recession (2008-2010), when the phone stopped ringing, we acquired a 25 foot Airstream trailer and pulled it cross country a few times, zigzagging toward the light. […] We met and collaborated with over 130 subjects by placing ads online in towns that we knew we would be shooting in.." ~ Formento and Formento
Q: How did you meet and come to work together?
We met on a job in Miami back in 2005. Richeille was in town from London art directing a few projects and she booked me to shoot for her. It was love at first sight! I moved to London a few weeks later, we got married within 3 months. We started by freelancing as a photographer and art director team based in NYC and built our editorial and commercial clients that way. During the recession (2008-2010), when the phone stopped ringing, we acquired a 25 foot Airstream trailer and pulled it cross country a few times, zigzagging toward the light. This body of work entitled "Circumstance" reflected America down on bruised knees, we lived on the road during one of the worst recessions in history. We met and collaborated with over 130 subjects by placing ads online in towns that we knew we would be shooting in. We also looked for our subjects in the streets, cafes and bars.
This body of work got noticed by Michelle Edelman of Traffic NYC and Vincent Vallarino Fine Arts and we had our first solo exhibition at Art Basel Art Miami in 2013 followed by a solo exhibition at the iconic Fahey Klein Gallery in Los Angeles featuring our "Japan Diaries".
Q: What draws you to the camera?
BJ: We have a love affair with all arts, cinema and music. At the moment photography is the perfect tool for our self expression. I moved to America when I was 14 and found the camera to act as a passport to get access, to assimilate and to meet girls, haha!
Richeille: To use it to explore my personal views and ideas of the world through a process of story telling and a way to better express my thoughts and feelings through viewable projects, its visual therapy and a personal diary in a way.
Q: What kind of equipment do you use?
Coming from analogue world I learned the discipline early on that the image needs to be created in the camera and the "music" so to speak, was in the darkroom printing silver gelatin. I believe that it doesn't matter what camera you use as long as your voice is clear.
Lately, we shoot digital with Canon gear. Archival pigment printing is done by Sergio Purtell of Black and White on White in NYC.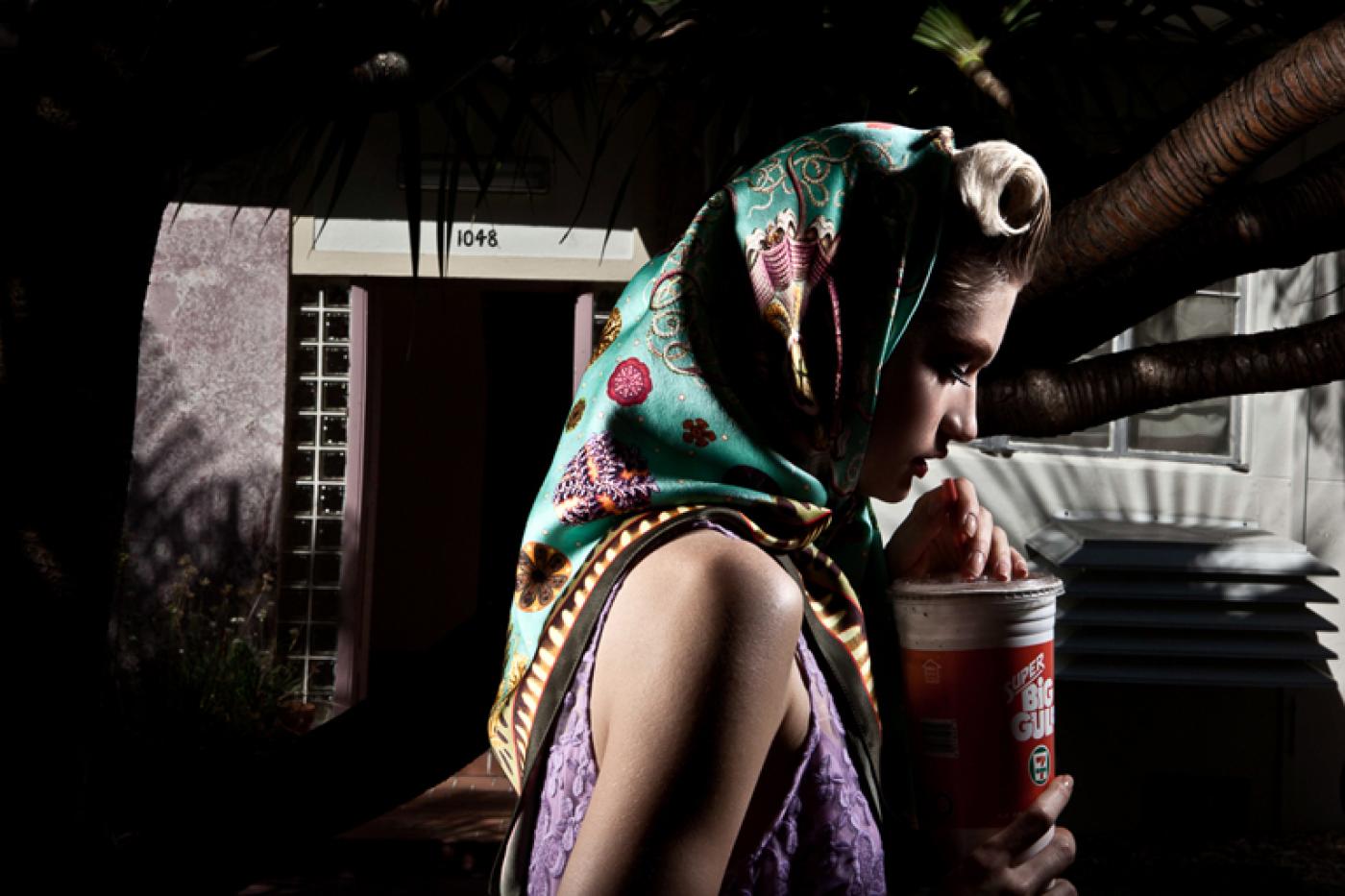 Q: What is your collaboration like? Who does what?
I mainly do the photography and lighting, while Richeille wears several hats from deciding on the styling, colour theme, hair and make up, she also has an incredible eye and coming from graphic design background she uses negative space with brilliance. We are lucky to live together and are in constant conversation about our work, how it failed, how we can make it better, ways we can create a new language and challenge ourselves with each project.
Q: How do your visions ever clash and how do you resolve this?
R: Sometimes we will also take two versions of a shot, with each of us exercising our individual idea. This can be very useful after a shoot with the chance to look back and analyse what worked or what didn't. This is when having two people comes in useful with both point of view and options and speed in which to work
BJ:Journey is at the centre of our work, we love that constant sense of uncertainty where every turn offers a space for exploration. So our trips are planned well in advance and we have a united vision before we set out. The key is to be open to what the gods want to give us, also, being alert and spontaneous while working on location.
Q: From frozen image to moving film, how does your creative process and approach differ between the two mediums?
We are interested in the idea of using photography to suggest narratives, so it's a very natural progression to making films. With the advent of digital, it has become so much more feasible to experiment with moving images. One aspect of it we are having difficulty with is that the concept/idea is very much fed to the audience at 24 frames per second as opposed to 1 photograph that allows so much room for interpretation. When we are working in film there is a totally different hat to be worn. We are so used to working alone (we rarely use assistants) and even shoots where Richeille has done all the styling, hair and make up herself. With films there is automatically a crew, major equipment and lighting approach is to creating becomes more from directorial stand point.
Q: How do you market yourselves?
We are in all the major art fairs (Art Basel, Paris Photo, AIPAD, Armory, PhotoLondon and PhotoShangai).
Social media has also played a big role, which can be used as a great marketing tool reaching audience far and wide. Our work gets picked up very often by magazines and blogs as well.
We have reps both in fine art and in commerce field that are based in major US and European cities. We will also be working on more book publications to present the images in another format. This will enable the work to be seen by a broader audience and also give a more in-depth understanding to each project.
Q: How would you define your signature style and aesthetic?
Images that are poised between documentary and highly staged photography, seductive and cinematic. We love the spontaneity of working on location, feeding off the energy between us and our subjects, infusing what would otherwise appear to be insignificant gestures with psychology and emotion. Our work is based on the dichotomy between fact and fiction and asks the viewer to question the assumed truths that the photographic image offers.
Q: What draws you both to the side of the eerie and otherworldly?
Growing up we were both into films by Hitchcock, Lynch, Kubrick as well as photographers Newton, Bourdin, Outerbridge, Bellocq, Weegee, Sherman, Eggleston, Araki and Moliniere, so I guess their aesthetic and treatment with lighting had a major influence. With billions of images flashing people on a daily basis we try to have our work resonate, I guess what you mean by 'eerie or otherworldly' is our attempt to seduce you, to have you (the viewer) come back to our work again and again, to show you what you don't know.
Q: Best advice for aspiring photographers?
Be a doer. I meet so many young artist that have a lot of plans, and go on and on about what they are going to do. Nowadays, with digital cameras there is no excuse to put projects off due to funding or what have you. There is no more film to buy, polaroid to expense and of course all the costly film developing! If you like to work in the commercial field hook up with a stylist, hair and make up team in your area.
Go see works at galleries, museum, save money to attend workshops and by all means travel.
Get out there, take one thing and explore it, look at from different angles. Be honest, be tough, become a strong editor and keep in mind that less is more. Once you have 30-50 really strong cohesive images get it seen with photo editors, magazines, art galleries. The internet is such an amazing tool use it to your advantage.
Q: What are you working on now? What is next for you?
We have a few projects we have started: "Strange Fascinations"
We wanted to create luscious images that explored the ideas of misfortunes, tragedies, survival. From the everyday mundane accidents to the more dramatic and less frequent, truly newsworthy accidents. Then finally there is accidents of the heart: stabbings, beatings, murder and suicides-planned or on impulse prompted by jealousy, rage, greed or simply despair. Not so much a crime scene but more the voyeuristic mystery. Are we part of the crowd or are we the protagonist. If onlookers can be termed the original "audience" we (the reader and I) are part of another audience, further removed from the scene: the audience outside the frame. There is a sense in which the very presence of a primary audience seems to absolve us of our voyeurism. They liberate us from our shame. We get to look, because others looked first.
Work in Progress "India: A New Way of Seeing." Exploring images dealing with chaos and peace, that very fine balance between the cinematic and the real. To tell stories of unexplained wonders and drama that are rendered from actual lives and experiences. Perhaps a slight exaggeration of real life…something that is more intense and dramatic, a parallel universe. To lure you in with our lighting and our mise en scene of a place that is beautifully fucked up. To show dark things happening, things that might not be pleasant to see but the lighting makes them aesthetic and makes looking at the photographs irresistible.
Our second book, spanning 5 bodies of work: Circumstance, Japan Diaries, She is Cuba, Strange Fascination and India is in the midst of the editing process, we are working on very closely with David Fahey [released in 2016].
All Rights Reserved © BJ + Richielle Formento. Photos courtesy of Formento and Formento