Marvin E. Newman, the storyteller, Marvin E. Newman the inventor. Marvin E. Newman, the charmer. At the age of ninety, with a mischievous glint in his eye, Marvin E. Newman casually drops a thousand tales that tell the story of American photography from the end of the Second World War to the present day. He's an inquisitive man who embraces the world and never takes himself too seriously. He has photographed everything with great enthusiasm: from street reporting to advertising and sports, from night life to high fashion. Like many photographers of his generation, he has never shied away from any commission. But as he has done so, he has remained staunchly faithful to what he learned in 1949 from his teachers at the Chicago Institute of Design (which began as the New Bauhaus). As he himself says, 'no matter what I shoot, I always photograph for myself'. Marvin E. Newman took especially to heart one of the precepts of that mythical school's founder, Lázló Mohóly Nágy: always experiment and keep experimenting. Leave the beaten paths, embrace new technologies. Impose your vision.
Hobby Horse, Winter Boardwalk, 1953
Nowadays, Marvin E. Newman devotes himself to his archives with renewed passion, revisiting his work through the lens of digital prints.
'Broadway', 1954
Bright lights, big city: Broadway in 1954, with the names of Burt Lancaster, Rita Hayworth and Eartha Kitt up in lights
Over the years, Marvin Newman has repeatedly fixated on everything from old women's calves and men sprawled out on park benches, to sewer covers and mannequin heads sporting hats.
"I saw one or two and thought, 'Gee whiz, this really could be something so special if you really zero in on it,' " he said. "You would see something happening, and you knew that the repetition of it could take it beyond just the simple photograph. When you see multiples together, it just adds to the fact, and it becomes better."
He has thought a lot about the role of series in photography, starting with his master's thesis — one of the first of its kind — while studying at the Institute of Design in Chicago with Harry Callahan and Aaron Siskind. One of his earliest series featured apparition-like shadows on Michigan Avenue in Chicago.
"I photographed the people coming at me," he said of the willowy silhouettes of nuns and children, which he turned upside down for an ethereal effect. "The sidewalk lines give a very good feeling of composition; it takes it a little bit beyond just a simple shadow on a white surface."
"Sequentially Sought," an exhibition now at the Howard Greenberg Gallery in Manhattan, showcases his tender and sometimes tongue-in-cheek take on 1950s New York and Chicago. The images range from his black-and-white photos of mannequins to color photos of the Coney Island boardwalk in the winter (which fueled his breakout as a color photographer).
Mr. Newman was born in 1927 and raised in the Bronx, where his family ran a bakery. He attended Brooklyn College and, in order to study sculpture, had prerequisite classes in photography that placed him under the tutelage of Berenice Abbott and Walter Rosenblum, who encouraged him to take classes at the Photo League in 1948. Mr. Newman credits his visual sensitivity to the post-Mondrian painter Burgoyne Diller, who also taught at Brooklyn College and was his earliest artistic influence.
"He had very serious ways of composing a rectangular image," he said, "and it stayed with me throughout all my work."
"Sun Shadow" 1956
He moved to Chicago to study at the Institute of Design — initially intending to be a product designer, as a pragmatic offshoot of sculpture — but switched to photography. After obtaining his master's degree in 1952, he worked at a factory that made wall shelves before moving back to New York. He focused on Wall Street, doing a mix of commissioned work for Esquire as well as personal work flecked with sun filtering through the "canyons" between towering buildings.
'Chicago', 1951
"I tried very much to put together this kind of light in a set of photographs," Mr. Newman said. "It's like stage lighting, but it's real!"
The aestheticized effect belies what "is actually documentary photography," he said. "That simple sun coming through — it just captures everything … you can see the filigree of the downtown area."
His vivid images of Coney Island in winter — featuring groups of bundled women under signs for knishes and the Brighton Bowl — reflect his embrace of color from the beginning. It was a time when magazines inundated the public with color images, even if the film's slow speed during the 1950s was a slight impediment.
"You couldn't just walk along like Garry Winogrand with his wide-angle camera and Tri-X film," he said. "He could catch moments in black-and-white. You couldn't get that in color. But you'd get something else: You'd get reality. You'd get the feeling of what you saw — exactly what you're going to get when you make a print."
Mr. Newman said he had never felt precious or nostalgic about past practices and had been quick to evolve with the medium into digital. In fact, with digital, he is delighted that he can revive the original palette he captured decades ago.
"People want vintage stuff that went through chemicals," he noted of today's tastes. But, with digital, he said appreciatively, "I can make a print based on what I have seen."
The current exhibition showcases just a sample from more than a half-century of work. "It makes the point of who I am — at the beginning," he said of the 1950s-era focus. "I didn't die in the 60s; I was working very hard, and I'm still working."
Himself an athlete in his younger days, Mr. Newman worked for Sports Illustrated after it started up in 1954, photographing football and baseball. More recently, his sports photography has been distinguished by shooting golf courses aerially, flying low in a helicopter with a wide-angle lens, work for which he won a Lucie Award in 2009.
He went to Europe and the Middle East in the '60s and '70s: snapping women on the Riviera for Playboy, the Rome Olympics for Sports Illustrated, the Yom Kippur War for Newsweek, series about the Ozarks and Scandinavian culture for Time/Life Books. In the '80s he worked in advertising, before being "rediscovered by galleries" in the '90s.
Today he is shooting and printing digitally, with a new series on birds in flight in Florida. A book surveying his color photography will be published by Taschen in the fall.
Authenticity is what ties it all together. "While I was doing all that work, I continued my own thinking and making things," Mr. Newman said of his career. "When I saw something that I thought was photographically valuable, I would go and do it, whether it could sell or not sell. Like any artist."
'42nd Street', 1983
"Roseland Ballroom" is a single photo which looks like a collage or multiple exposure. Newman's colorful night photo of Times Square "neon" in New York City, 1954
Marvin took a series of photos, titled "Shadows", as a young artist on the streets of Chicago in 1951
As a part of an assignment from Esquire Magazine on the NY Stock Exchange, this photo was shot by Marvin through a hole in the ceiling. Newman broke new ground with color photos in the 1950s, when black and white ruled the medium. His compositions used "color" as the conceptual "subject", showing Burgoyne Diller's influence on his work.
Coney Island Boardwalk", 1952. This photo was shot at Coney Island using Kodachrome (transparency) film. Color prints, at that time, were fugitive (meaning the colors shifted and faded over time) thus were not a collectable art medium. Kodachrome slides kept their brilliant color, but had to be stored in the dark. Archival color printing first happened in the seventies with an expensive dye transfer process and more recently with pigmented inks for professional, archival digital prints.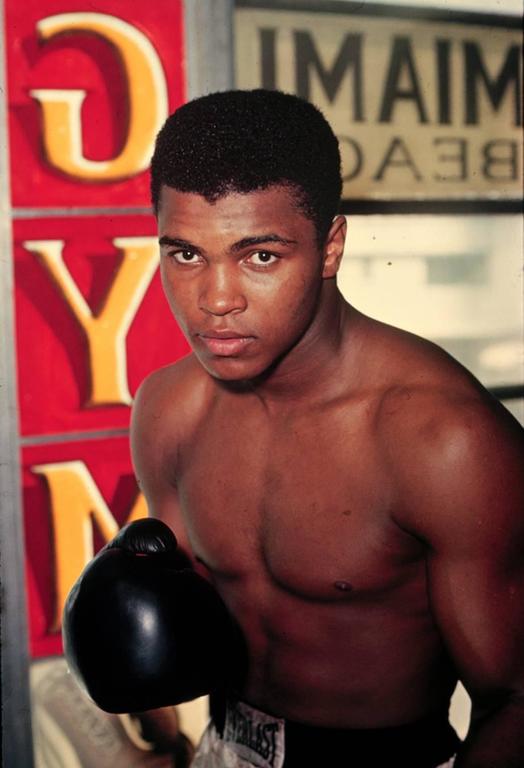 Cassius Clay, 5th Street Gym, Miami, 1963
The photographer spent some quality time one-on-one with Cassius Clay aka Muhammad Ali at his gym. This portrait of Clay is also a self portrait. The "posters" in the background were actually props from a boxing movie starring actor Anthony Quinn.
High contrast film, made for document reproduction, was used in a series of art photos, including this 1954 photo of a snow fence.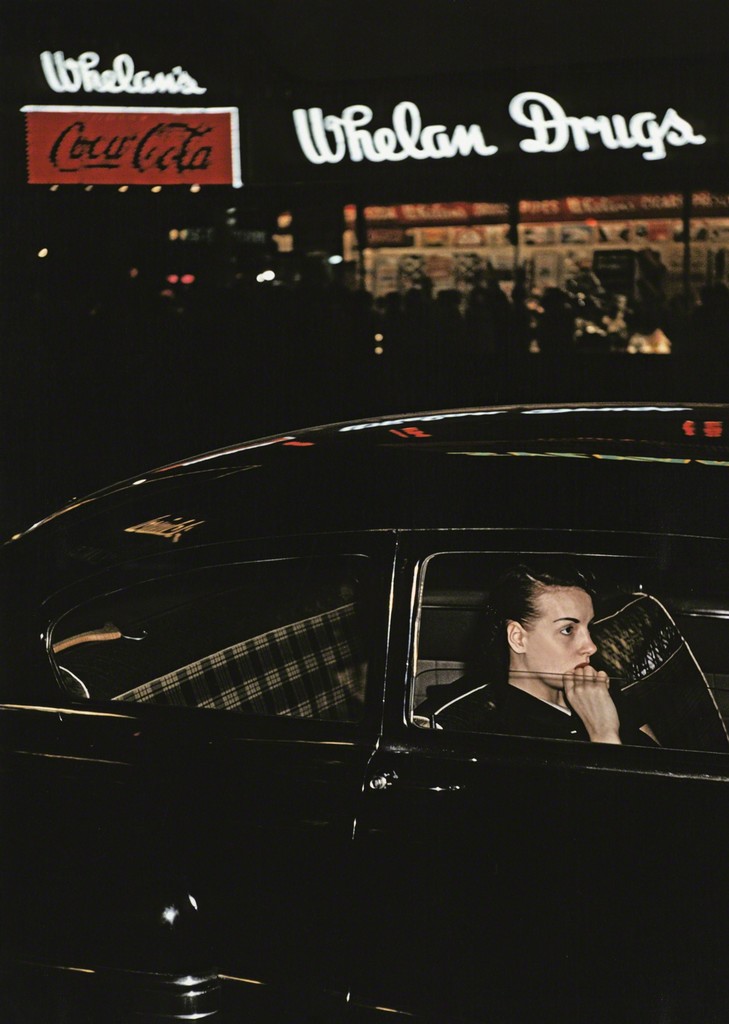 Whelan Drugs, 1954
Movie mania: 42nd Street, 1983
Newman used to buy his shoes at the London Shoe store
Books on broadway: Newman took this shot in 1954. His interest in colour stemmed from his study of the science of photography at the Institute of Design in Chicago, where he was one of the first students to earn an MSc in photography, in 1952
Coney Island, New York's pleasure resort in the winter, 1953