The Magnum photographer Abbas Attar – known throughout his career as Abbas – (29 March 1944 – 25 April 2018), was an Iranian photographer known for his photojournalism in the 1970s, and for his extensive essays on religions in later years. He was a member of Sipa Press from 1971 to 1973, a member of Gamma from 1974 to 1980, and joined Magnum Photos in 1981.
Having made his name covering the revolution in his native Iran, the photographer went on to cover wars and unrest in many other parts of the world, including Biafra, Bangladesh, Northern Ireland, Vietnam, the Middle East, Chile, Cuba, and apartheid-era South Africa.
"He was a pillar of Magnum, a godfather for a generation of younger photojournalists," said Magnum's current president Thomas Dworzak. "An Iranian transplanted to Paris, he was a citizen of the world he relentlessly documented; its wars, its disasters, its revolutions and upheavals, and its beliefs – all his life. "
Though Abbas made his name at Magnum – having begun his career working for rival agencies Sipa, then Gamma – the transition to the home of Robert Capa and Henri Cartier-Bresson was not easy.
In an interview for Phaidon conducted back in 2016, Abbas recalled having to present his work to the agency AGM in the early 1980s as a prospective member, shortly after he had covered the revolution in Iran.
"It was hard," he said. "I produced some of my best work covering the revolution, and they said "We know you can do news. So what?" But that's a good thing – it's an intellectual kick. That's what you get from Magnum.
That switch to the novelistic mode of photography served him well when covering his other great subject: religion. His books on Islam, Christianity and Hinduism proved he was a masterful, subtle observer of life at its most serene, as well as its most fraught.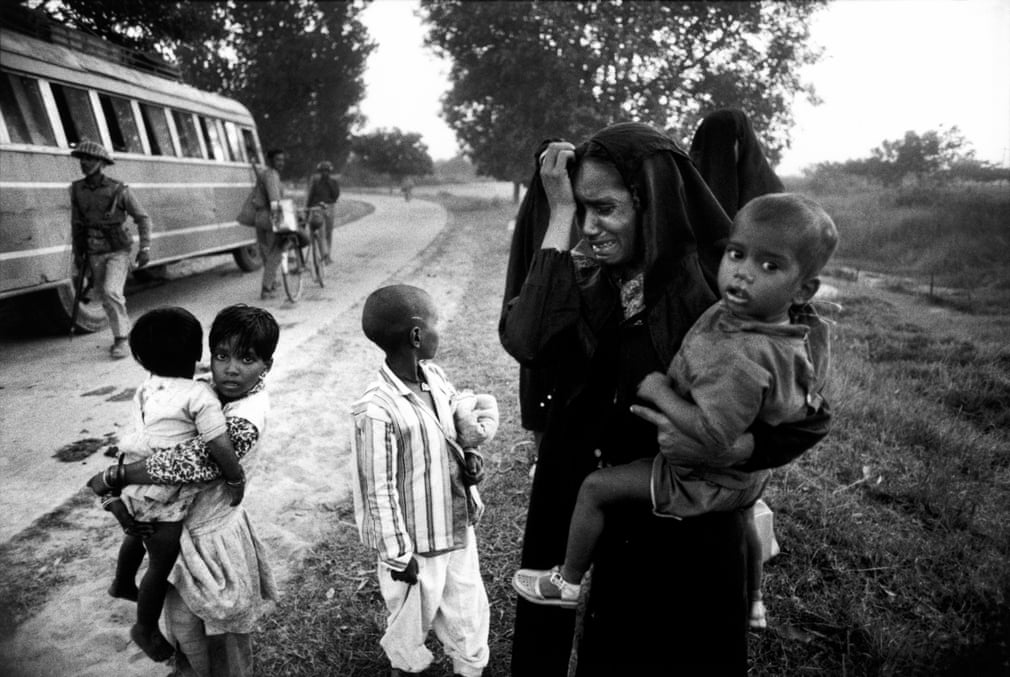 Near Saidpur, East Pakistan, 1971: Among Bengali refugees escaping the frontline between Pakistani and Indian troops, a woman cries, surrounded by her children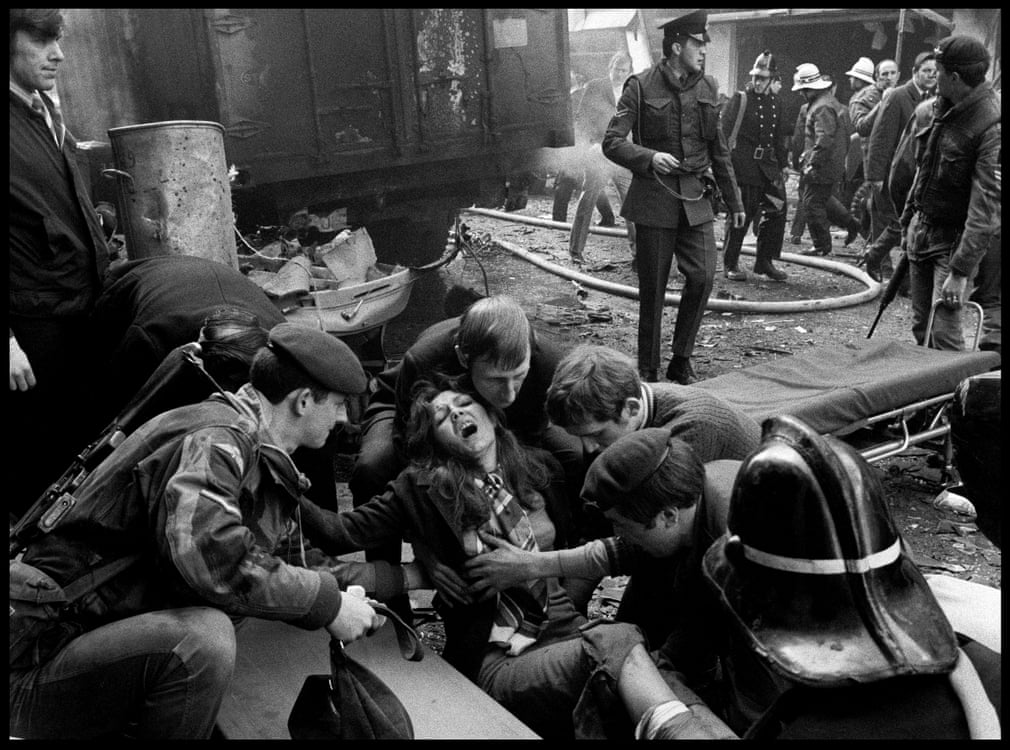 Belfast, Northern Ireland, 1972: A woman wounded in an IRA bomb explosion in the city center is given first aid
A soldier of the South Vietnamese army, Vietnam, 1973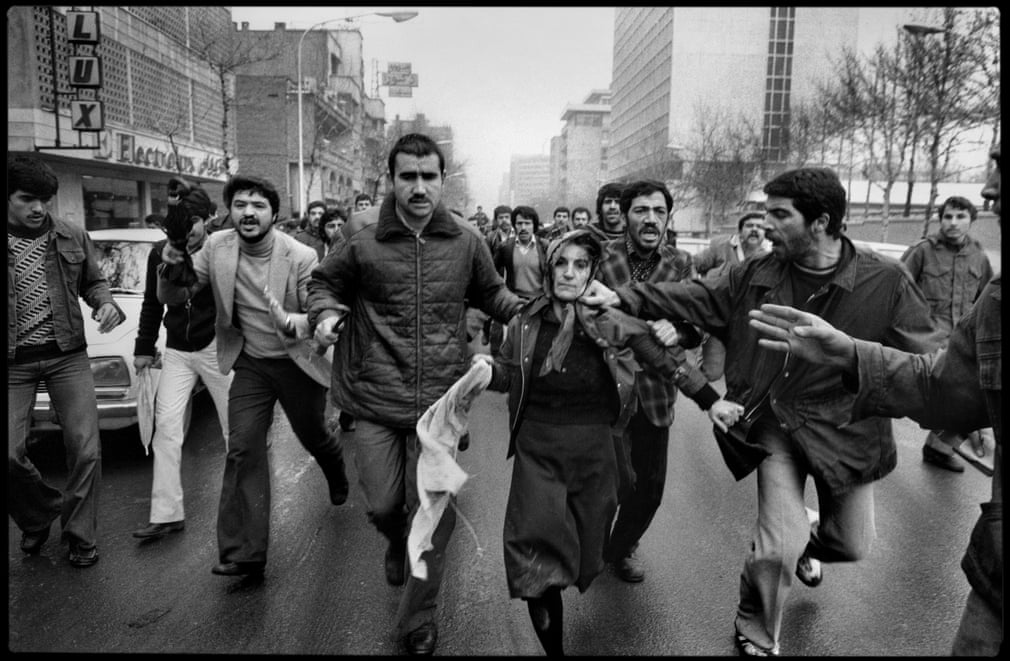 Tehran, Iran, 1979: After a demonstration in support of the constitution and prime minister Shapour Bakhtiar, a woman, believed to be a supporter of the shah, is mobbed by a revolutionary crowd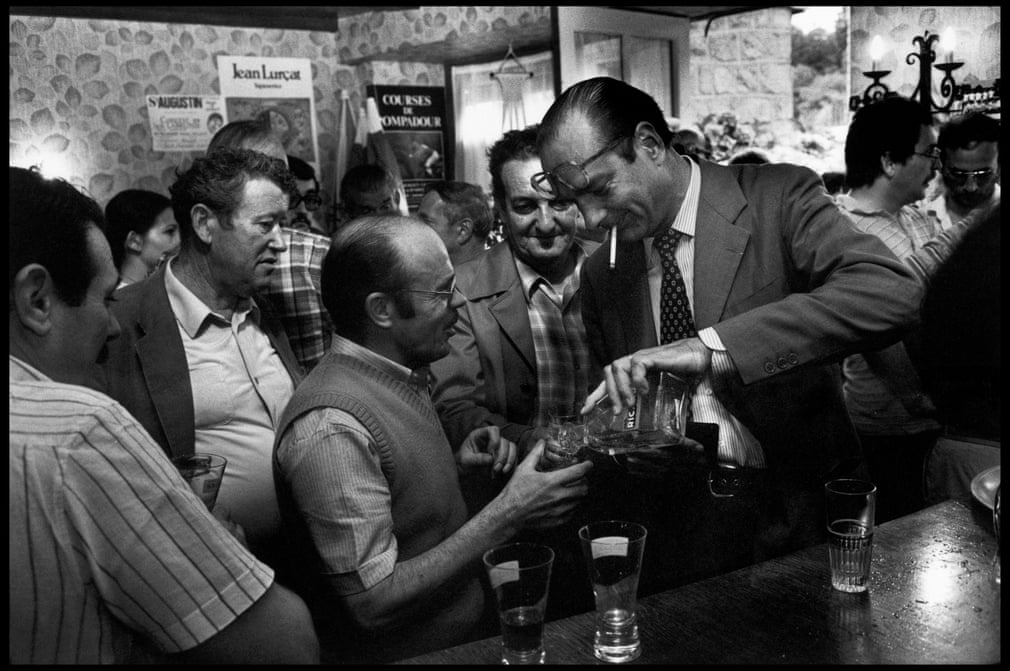 Correze, France, 1982: Jacques Chirac (right), president of the RPR Party, drinks with voters in a bar while visiting his constituency
A student wearing the nigab, the full Islamic veil in front of a microscope in the biology department of Cairo University, Cairo, Egypt, 1987
Shahr Rey, Iran: Young man, three veiled girls in a four-seater, 1987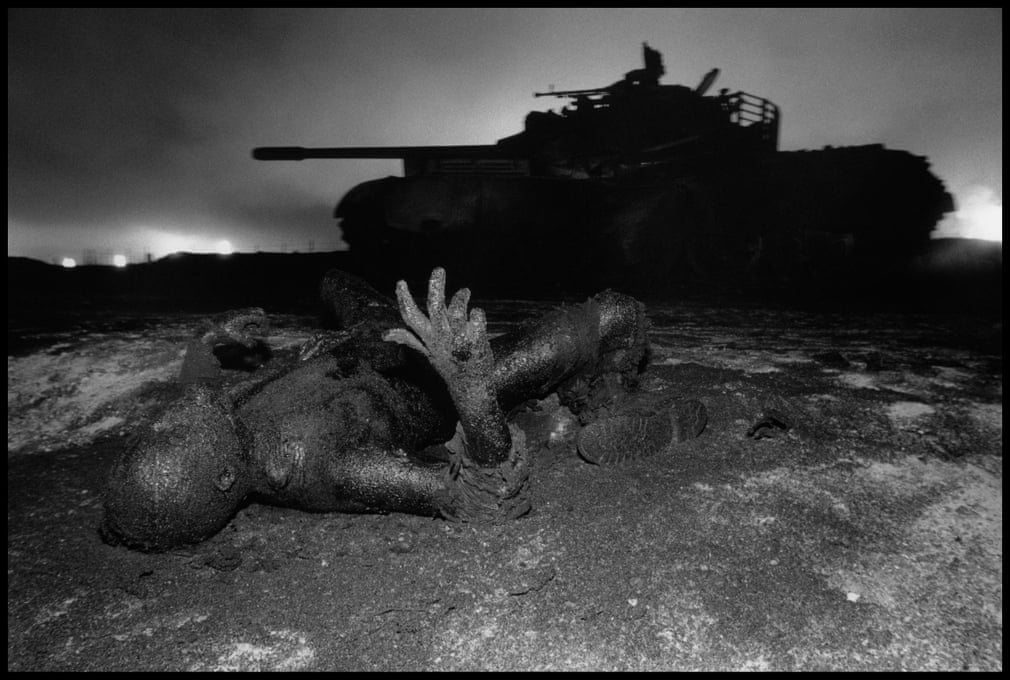 Kuwait, 1991: Next to a tank destroyed by US aerial bombing, a dead Iraqi soldier is mummified by drops of oil escaping from wells, set on fire by the soldier's unit before it retreated
Young and old Hassidic Jews, Jerusalem, Israel, 1991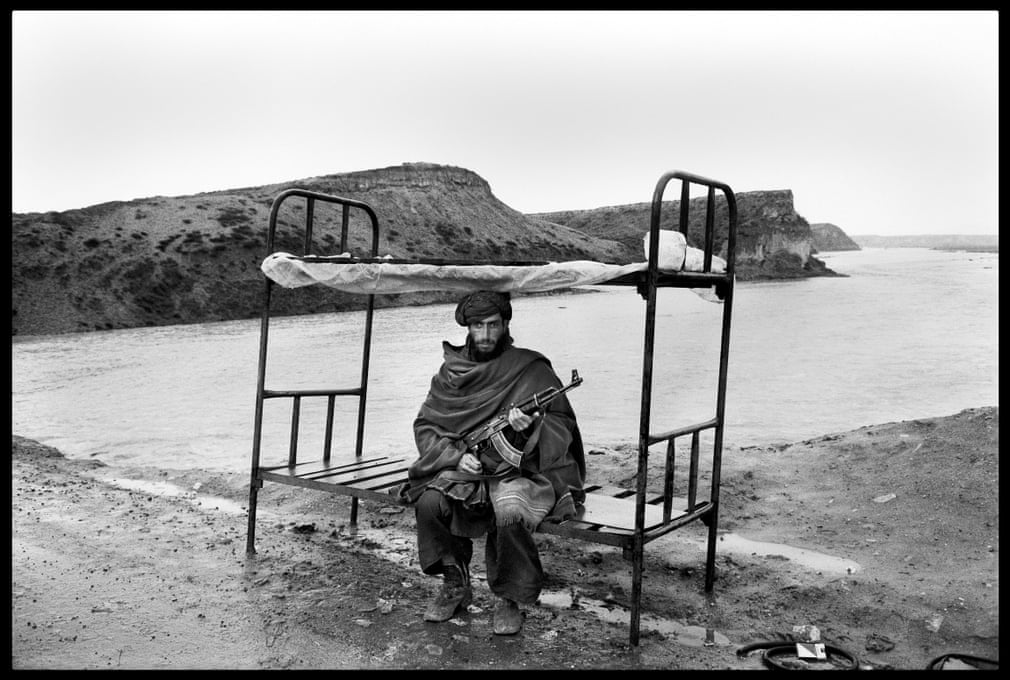 Near Kabul, Afghanistan, 1992: A mujahid of the Hezbi-Islami guards the road to the capital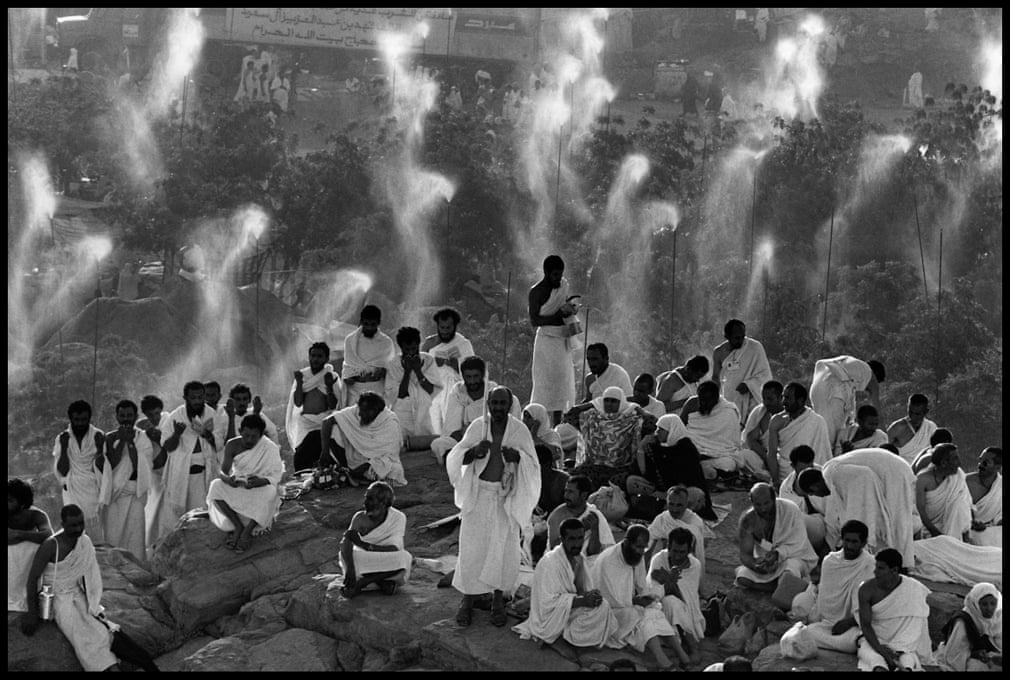 Mecca, Saudi Arabia, 1992: Pilgrims from around the world pray on Mount Rahma, where Muslims believe Adam met Eve
A Sadhu and pilgrims bathe in the river whilst a cow drinks from it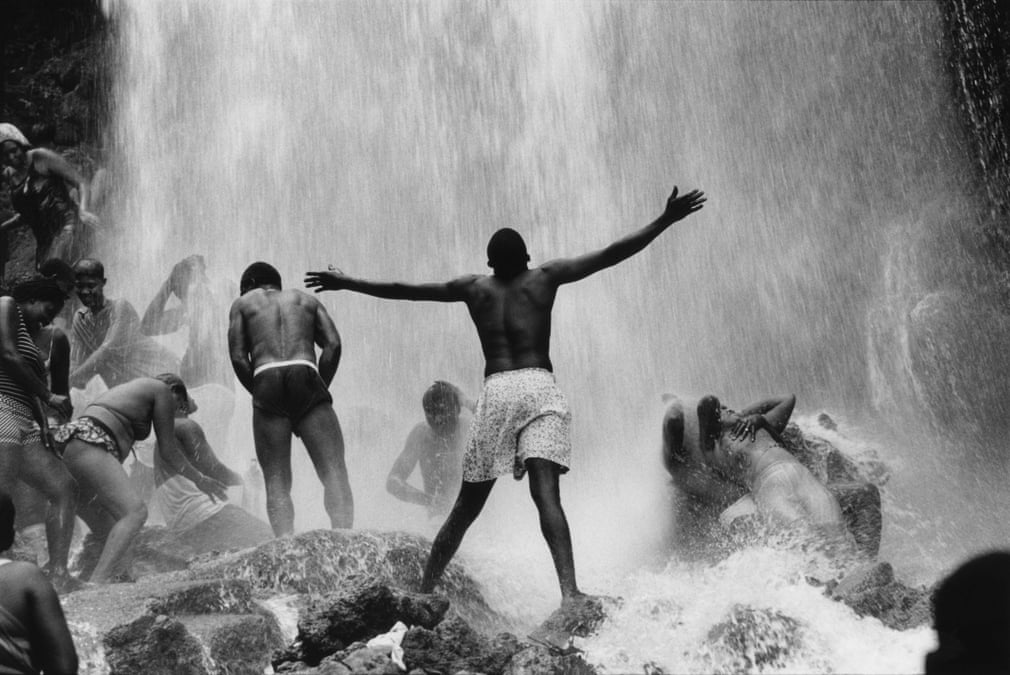 Seau d'Eau, Haiti, 2000: Pilgrims bathe in a waterfall they consider sacred. With medicinal herbs and perfumes, they ask their Voodoo loas – personal or family spirits – to fortify them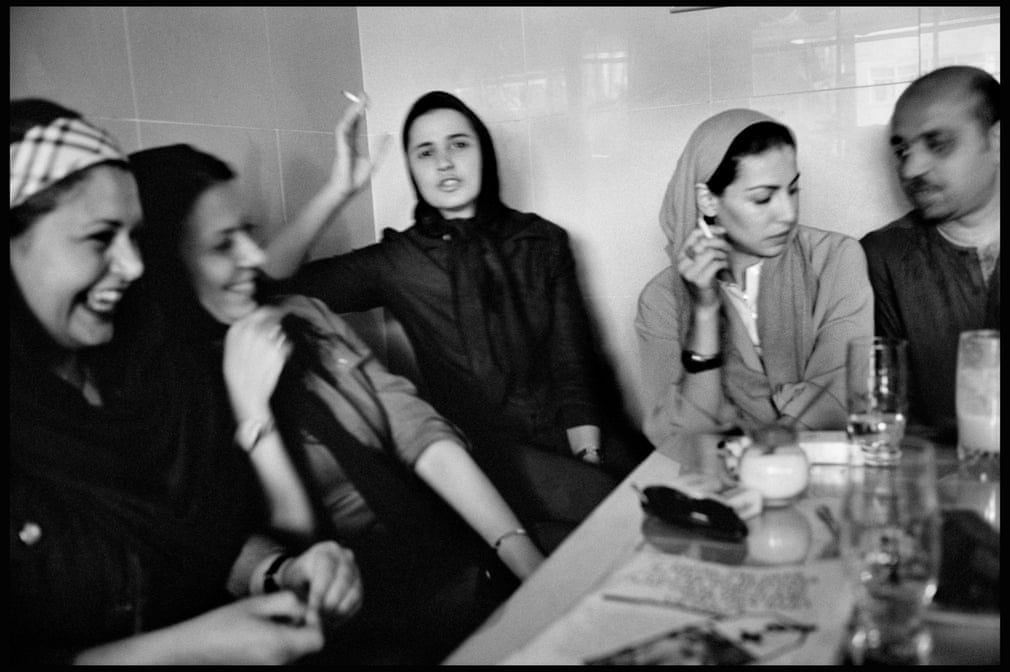 Tehran, Iran, 2001: A scene inside a fashionable coffee house
Bangladesh, Mymensingh. Taking a shower in the courtyard of his modest home, 20 year old Shahin had both his legs amputated after a series of bomb explosions, claimed by jihadists, on 28 September 2002.
Thien Mu pagoda run my monks of the Mahayana Buddhist sect. Novices with tuff of hair on a shaved head, Hue, Vietnam, 2008
Famous Quotes from Abbas
"My photography is a reflection, which comes to life in action and leads to meditation. Spontaneity – the suspended moment – intervenes during action, in the viewfinder."
"Get a good pair of walking shoes and…fall in love."